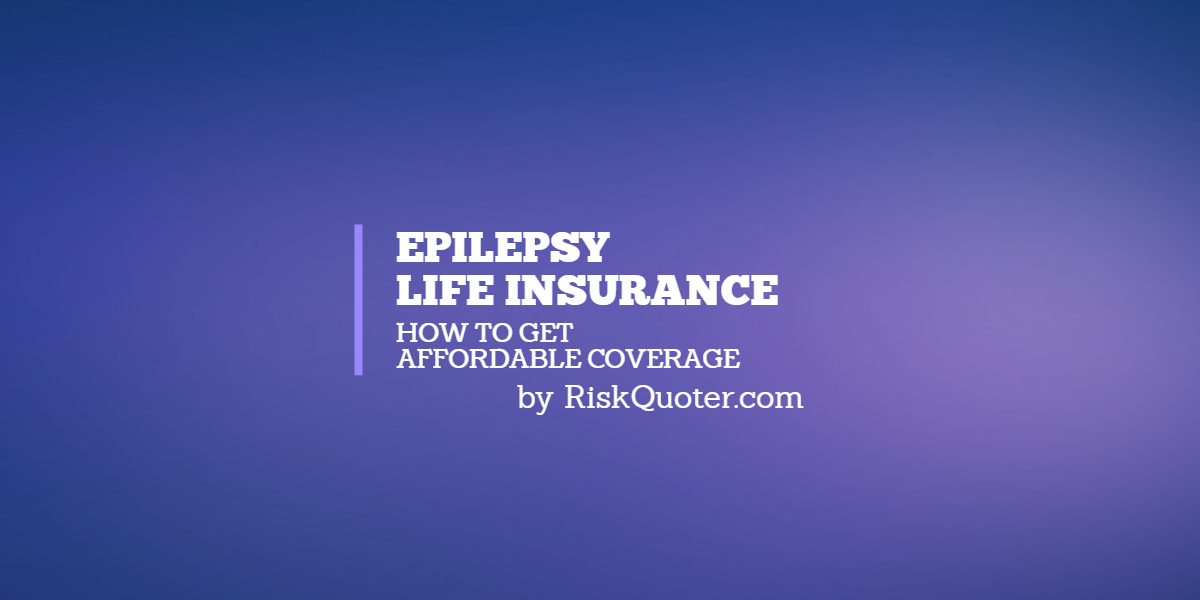 We specialize in finding affordable life insurance for people with brain and nervous system disorders.
This Life Insurance with Epilepsy Guide Covers:
Life Insurance with Epilepsy
Epilepsy is a neurological disorder where nerve cells in your brain become disrupted, causing seizures. The cause for most epilepsy patients is unknown (idiopathic), typically being diagnosed after having at least 2 seizures.
Life insurance for epilepsy is available with a number of life insurers that specialize in seizure disorders. This article focuses on idiopathic epilepsy, with some brief information about symptomatic epilepsy.
If the cause of epilepsy is known (symptomatic), life insurance underwriting is based on that underlying cause first, and secondarily on epilepsy itself.
Examples of symptomatic causes may include brain trauma, stroke, tumors, and drug/alcohol-related seizures.
Throughout this guide, you'll find information to help you make an informed decision about your life insurance.
Epilepsy Life Insurance Underwriting
You may be asking yourself – Can I get life insurance if I have epilepsy?
Yes! People with epilepsy are able to get life insurance if they follow our advice in this article.
Which leads us to:
Epilepsy Tip # 1
If you were just diagnosed with epilepsy, don't apply for life insurance until you speak with us first!
The reason why is that most insurance companies postpone life insurance for 3-6 months after diagnosis to see if medications and treatments are working.
It takes time to dial in the medications and control seizures.
Epilepsy Tip # 2
Life insurance rates improve as more time passes since your last seizure. When you're first diagnosed with epilepsy, life insurance companies will add an additional expense called a table rating to your life insurance policy.
As more time passes, it will be worthwhile for us to re-shop your coverage as you may be able to save more in the future.
As an example, ballpark table ratings since the time of diagnosis:
0-3 months = Postpone by most companies
3-6 months = Standard – Standard plus 100% rating
7-24 months = Standard – Standard plus 50-100% rating
25-60 months = Standard – Standard plus 50% rating
Keep in mind that the above are general guidelines as each person's medical history is uniquely different and will result in better/worse outcomes.
We use a quick quote process where we'll gather your medical history from you. We then reach out to the best life insurance companies on an anonymous basis for feedback.
The benefit for you is that we can cover many companies quickly and show you their feedback within a few days of submitting the request.
Epilepsy Life Insurance Questions
Life insurance underwriters need to know the following about you in order to underwrite you:
When were you first diagnosed with epilepsy?
What type of seizures have you had?
How often do you have seizures?
When was your last seizure?
Have you been hospitalized for epilepsy?
Have you had any mental deterioration or personality changes from epilepsy?
Do you take any medications?
What medications and dosages do you take?
Do you have any other health issues?
Types of Epileptic Seizures
Absence Seizure – Also known as a Petit Mal Seizure
Simple Partial Seizure – Also Known as Myoclonic Seizure
Complex Partial Seizure
Tonic-Clonic Seizure – Also known as a Grand Mal seizure.
The type of epileptic seizure you had and the amount of time that has passed since your last seizure are determining factors in your ability to get life insurance.
Can I get life insurance after a seizure?
Life insurance underwriters will postpone you for a period of time from your last seizure. Typically, that is 3-6 months since your last seizure but will vary depending on your individual medical history.
Epilepsy Underwriting Based Type of Seizure
The following are general guidelines to help you. The best way to get accurate quotes is to submit your no pressure, no-obligation quote request.
Absence Seizures and Simple Partial Seizures
If your last seizure was at least 2 years ago, it may be possible to obtain standard life insurance rates.
If your last seizure occurred less than 2 years ago, you may end up with a standard rate plus an additional expense called a table rating.
The table rating may add 50-100% to the standard rate.
Complex Partial and Tonic-Clonic Seizures
If you had a Complex Partial Seizure or a Tonic-Clonic Seizure, the life insurance rates you pay will depend on how well your epilepsy is controlled as well as the time that's passed since your last episode.
Generally speaking, if your last Epileptic episode was 5 years or more, life insurance companies may offer you their standard life insurance rates, and in some cases a standard plus rating.
Please take a few minutes to complete your quote request today.
We'll help you decide on what type of life insurance and how much life insurance to get.
There is never any pressure or obligation with our life insurance service. We'll give you the information you need to make an informed decision about your life insurance.